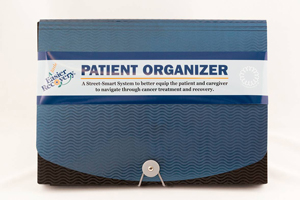 What People Are Saying
"I could not have received a more meaningful and thoughtful system to help me on the road to recovery."

"Excellent support and organizer!"

"The various sheets and suggestions were especially helpful!"

"I do love A Pass; I needed that."
The Organization System™ is designed for two purposes.
First, to keep yourself organized… who gave you what referral on what date?… what questions do you have for the doctor?… keep track of what medications you are on… patient form that includes what pharmacy and the fax number… pertinent doctor's information, pager, secretary, intern, etc. This organization system and forms will help keep everyone on the same page.
"YOU MUST BE YOUR OWN BEST ADVOCATE - YOU ARE THE QUARTERBACK IN YOUR OWN GAME."
Second, the organization system is to be used to help assist a relative or friend if by some chance you need a break from it all. Your organization system will be ready for someone to pick up and manage as he/she will have all the necessary information and be well informed to take over your organizational needs.
12 pocket Filing System to simplify organization of various paperwork with forms included:
Patient information form
Favorites form
Questions to ask your Doctor
Referral forms
Insurance explanation of benefits (EOB)
Medicare and Social Security information
Your pharmacy and medicine information
Your Doctor's reports
Business Cards
Your bills and receipts
Miscellaneous
Miscellaneous: A Pass…Important Points…Strengths
Give yourself

.